Lettuce Wrap Variations
click here for P.F. Chang's Lettuce Wraps
Bold flavors, crunchy vegetables, cool and crispy lettuce combined for delicious, hands on meals! In addition, they are healthy! Lettuce wraps are turning up in restaurants across the country these days. Most often offered as an appetizer, many are happy to make a meal out of them - which is a wise idea.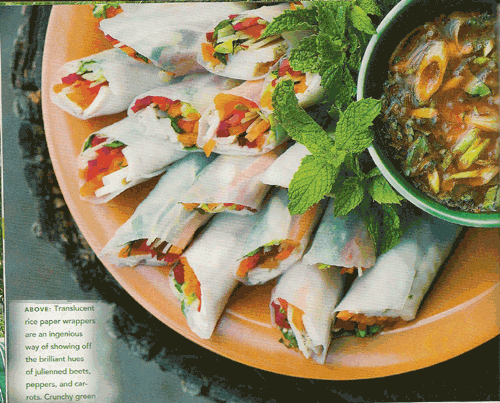 Five Quick Tips:
Pick large, pliable leaves
Dry lettuce before serving
Vary textures, color and flavors in filling
Make fillings and sauces ahead
Leave assembly to the diners
The secret to good wraps is bold spicing, along with good texture and crunch in the fillings. Those who find themselves reluctant to eat too many carbohydrates love lettuce wraps. They are refreshing, cool, and cleanse the palette, says an executive chef in Beverly Hills.

Lettuce wraps are a great way to deliver a main dish meal. You can easily create lettuce wraps in an almost endless array of variations at home. You can use the same ingredients you use in burritos, tortillas, pita bread, spring roll, or phyllo dough as a good candidate for a lettuce leaf.

Leftovers work great as well. Chicken, fish or steak or vegetable combinations as filling bases are excellent choices. If you are watching your weight, fill your lettuce wrap with low-fat fillings and lean meat.

In short, the only limit you have with lettuce wraps is you imagination! Following are some recipes to get you started, but do not hesitate to try anything that sounds good to you.

You can use lettuce leaves as a jacket for all kinds of meats, seafood, poultry, vegetables and cheese combinations. In additions, along with tuna, caprese, Greek, egg, Cobb, nicoise, chicken or shrimp salads and rice mixtures, jambayla mixtures, hot fajita blends, kung pao combos and more.

Diners do love wraps - even kids can learn to love them for one simple fact: You get to play with your food, eat with your hands and it is okay!

How to Wrap Things up in Lettuce
Here are a few tips for lettuce wrappers:

*For best results, pick the largest, most pliable lettuces leaves. Iceberg, red lettuce and radicchio leaves or cups along with large spinach leaves are other possibilities.

*Core the lettuce and soak in ice water for an hour or two for easy removal of intact leaves. Separate the leaves and drain each one individually, then refrigerate on a towel for a couple of hours to crisp them. Lettuce leaves or cups can also be rinsed, dried and stacked, wrapped in a plastic bag and refrigerated several hours or overnight. Be sure to dry the lettuce well before serving lest you will have a messy and watery mixture running out of the wrapped-up lettuce leaf.

*Filling possibilities are endless. Think about ingredient combinations you favor and wrap them up in lettuce leaves.

*Vary texture, colors and flavors in fillings and sauces. Depending on the mixture, you might want to have cool and hot, sweet and spicy, and crisp and tender in some of your creations. Make fillings as appealing in looks as in taste. Use colorful vegetables, sauces, etc. There is nothing worse than a bland, uninviting filling.

*Be sure to season fillings well, as the flavors must stand up to the lettuce wrapper. Peruse the seasonings you have on hand and experiment until you have something that tastes good. The bolder and spicier the better. Do not forget that vinaigrette, Dijon and other mustards, yogurt, a wide range of dressings, plum sauce, soy sauce, oils, vinegar's, sesame oil. In additions, you can jazz up fillings with Tabasco sauce, capers, green onions and more.

*Make fillings ahead and keep refrigerated until shortly before serving. If you want to take the chill off or serve them warm, simply zap covered, in a glass bowl or dish, a minute or two in the microwave oven. Watch carefully to avoid overheating and changing the texture of the meat or other ingredients.

*Prepare dipping sauces in advance and keep refrigerated, if desired. If time is limited, use prepared sauces from the supermarket, but they are expensive. Alternatively, use a combination of both prepared and homemade. Asian peanut sauce can run as high as $5.00 and more. Seek out reasonably prices options like fruit or tomato salsas, plum sauce, Chili sauce, cucumber yogurt sauce, etc. Offer sauces in small bowls, saucers or cups.

*Present the filling and dipping items attractively. Place shredded lettuce, in small lettuce cups or on a bed of red or green cabbage leaves on a platter or individual plate (or even on a larger buffet) and invite diners to design the combinations they like.

Recipes:

Asian Chicken in Lettuce Wraps
Ingredients
2 cups chopped cooked skinless chicken breast
3 tablespoons rice vinegar
1-1/2 tablespoons light soy sauce
1-1/2 teaspoons sesame oil
1/3 cup chopped water chestnuts
1/4 cup chopped green onions
1/4 cup chow mein noodles (canned) or fried puffed up rice sticks (crisp)
1/4 cup sliced almonds
Seasoned salt and pepper
1 cup shredded carrots
1 cup shredded red and green cabbage
Four to six butter lettuce leaves
Peanut sauce (see recipe below
Asian dipping sauce or Asian Chile sauce (store-bought)

Directions
In a medium glass bowl, combine chicken, vinegar, soy sauce, sesame oil, water chestnuts, green onions, noodles and almonds. Mix well. Season to taste with seasoned salt and pepper. Cover and heat in microwave oven, 1-1/2 to 2 minutes, until warm.
Prepare peanut sauce.
On platter, arrange a mound of chicken mixture and separate mounds of carrots and cabbage along with a stack of lettuce leaves. Add small containers each of peanut sauce and Asian dipping sauce to platter. To serve, place some of chicken mixture on a lettuce leaf, top with some carrots and cabbage and roll up in leaf. Dip into peanut sauce and Asian dipping sauce as desired. Recipe makes two entrée servings.
Note:
Add small amounts of different vegetables such as chopped celery, pea pods, mushrooms or zucchini or chopped blanched asparagus to chicken mixture if desired.
Peanut Sauce:
1/3 cup peanut butter
3 tablespoons hot water
1 teaspoon lime juice
1/4 teaspoon Chili powder
2 to 3 teaspoons bottled plum sauce

Directions:
Combine peanut butter and hot water; mix with fork until well blended. Blend in lime juice, chili powder and plum sauce until well blended.
Print this recipe



Spicy Asian Lettuce Wraps
Ingredients:
One pound boneless skinless chicken breast halves
1 (1-pound package) Green Giant® Create A Meal!® Frozen Lo Mein Stir Fry Meal Starter
2 tablespoons purchased chili-garlic sauce
2 tablespoons soy sauce
3 tablespoons oil
2 garlic cloves, minced
1 tablespoon sugar
2 tablespoons peanut butter
2 tablespoons water
Eight large leaves Bibb lettuce
1-1/2 cups grated carrots
1/3 cup chopped peanuts
1/4 cup finely chopped green onions
2 tablespoons finely chopped fresh cilantro, if desired

Directions:
To flatten each chicken breast half, place, boned side up, between two pieces of plastic wrap or waxed paper. Working from center, gently pound chicken with flat side of meat mallet or rolling pin until about 1/4-inch thick; remove wrap.
In small bowl, combine frozen sauce from meal starter, chili-garlic sauce and soy sauce; mix well. In medium bowl, combine chicken, 1/4-cup soy sauce mixture and 2-tablespoons of the oil. Heat 12-inch nonstick skillet over medium-high heat until hot. Add chicken; cook five to six minutes or until no longer pink in center, stirring occasionally. Remove chicken from skillet; cut into 1-inch pieces. Cover to keep warm.
Heat remaining 1-tablespoon oil in same nonstick skillet over medium-high heat until hot. Add 3 tablespoons soy sauce mixture, garlic and frozen vegetables and noodles from meal starter; cook and stir 6 to 8 minutes or until vegetables are crisp-tender. To remaining soy sauce mixture in small bowl, add sugar, peanut butter and water; mix well.
Arrange lettuce on part of large serving platter. Spoon carrots on platter next to lettuce. Arrange cooked vegetables and noodles on platter. Place chicken over vegetables and noodles. Sprinkle chicken with peanuts, onions and cilantro. To serve, spread peanut sauce in center of each lettuce leaf. Top with chicken and vegetable mixture, and carrots. Wrap lettuce around filling.
Recipe makes eight wraps.
Nutrition information per serving: Total Fat: 12g
Saturated Fat: 2g
Cholesterol: 35mg
Sodium: 790mg
Carbohydrate: 18g
Dietary: Fiber 3g
Sugars: 7g
Protein: 18g
Print this recipe



Southwest Style Lettuce Wraps
Ingredients:
2 cups chopped cooked skinless chicken breast
1 cup bottled salsa
1/2 cup rinsed and drained canned black beans or 1/4-cup each canned black beans and canned corn
One tomato, chopped
Four to six, lettuce leaves
1/2 cup shredded Cheddar cheese
Guacamole
Sour cream

Directions:
n a medium glass bowl, combine chicken, salsa, black beans and tomato. Mix well. Heat in microwave oven one to two minutes, if desired.
To serve, spoon some of chicken mixture on a lettuce leaf, top with a little cheese and guacamole and wrap up. Dip into sour cream and additional salsa if desired.
*NOTE: To lessen the fat content in this recipe, use light sour cream and fat free or reduced fat shredded Cheddar cheese.
Recipe makes two entree servings.
Print this recipe



Greek Salad Roll-Ups
Ingredients:
Two large tomatoes, chopped
One hothouse cucumber, chopped
1/2 green bell pepper, cut in chunks
2 tablespoons drained capers
2 tablespoons olive oil
1-1/2 tablespoons red wine vinegar
1/3 cup kalamata olive halves
One green onion, chopped
Seasoned salt and pepper to taste
1/2 to 3/4 cup cut-up or crumbled feta cheese
Six butter lettuce leaves

Directions:
Combine all ingredients except lettuce leaves. Toss until blended. Chill until serving time. To serve, place some of filling mixture on lettuce leaf, wrap up and eat out of hand.
Recipe makes two to three entrée servings.
Print this recipe



Caprese Salad Lettuce Wraps
Ingredients:
Four tomatoes, chopped (squeeze out some of juice before chopping, if desired)
1-1/2 cup buffalo mozzarella cheese cubes (about eight ounces)
1/3 cup chopped fresh basil
2 to 3 tablespoons olive oil
2 to 3 teaspoons balsamic vinegar
Seasoned salt and pepper to taste
Ground pepper to taste
Eight butter lettuce leaves

Directions:
Combine all ingredients except lettuce leaves. Toss until mixed. To serve, place some of mixture on lettuce leaf, wrap up and eat out of hand. Recipe makes two to three entrée servings.
Note: For variety: add 1/2-cup canned, rinsed and drained artichoke quarters and 1/2-cup chopped salami to tomato mixture.
Print this recipe



Tuna and White Bean Wraps
Ingredients:
Two large tomatoes, chopped
One can of (6-1/2 to 7 ounces) solid white water-packed tuna, drained
3 tablespoons chopped green onions
1/4 cup chopped green onions
1/3 cup chopped fresh basil or use two to three teaspoons dried
2 tablespoons rinsed and drained capers
3 tablespoons red wine vinegar
1 tablespoons olive oil
1/2 teaspoon garlic pepper
1/4 teaspoon seasoned salt
One can of (15 ounces) cannelloni beans (white kidney beans), rinsed and well drained
Six red leaves of lettuce

Directions:
In a medium bowl, combine together tomatoes, tuna, green onions, basil, capers, vinegar, olive oil, garlic pepper and seasoned salt. Mix until blended.
Gently fold in beans. Wrap up some of mixture in each lettuce leaf.
Recipe makes two entrée servings.
Print this recipe



Lettuce Wrapped Chicken and Shrimp
Ingredients:
Eight dried black Chinese mushrooms
Ten fresh water chestnuts OR one medium carrot, diced
One red bell pepper, stemmed, seeded and diced
Two green onions
Three chicken thighs
2 teaspoons dry sherry
1 teaspoon finely minced fresh ginger
1 tablespoon plus 1/2-teaspoon cornstarch (divided)
Peanut oil
1/2 pound raw shrimp
Three heads of iceberg lettuce
Two ounces rice sticks
Sauce (see recipe below)
1/2 cup pine nuts, toasted

Directions:
To make wraps, soak dried mushrooms in hot water until soft, about 20 minutes. Discard stems and dice caps. Combine with water chestnuts, red pepper and green onions. Refrigerate until ready to cook.
Cut meat from chicken thighs. Chop meat coarsely, then add sherry, soy sauce, ginger, 1/2-teaspoon cornstarch and 1/2-teaspoon peanut oil. Mix well.
Shell and remove veins from shrimp. Cut shrimp crosswise into very thin slices. Mix with chicken mixture and refrigerate until ready to cook.
Cut top third off each head of lettuce. Carefully separate leaves of tops; you should end up with about 18 round cups, about three to five inches across. Reserve rest of lettuce for salads.
Cook rice sticks in three batches in 1/2-inch of hot peanut oil in a 10-inch skillet or wok over medium-high heat, until rice sticks puff up and expand, about five seconds. Turn rice sticks over with chopsticks or tongs. Cook five seconds more. Drain on paper towels. Place cooked rice sticks in a paper bag and store at room temperature.
Prepare sauce.
Combine remaining one-tablespoon cornstarch with an equal amount of cold water; set aside. With your hands, break rice sticks into small pieces. Spread in an even layer on serving platter. Place wok over high heat. When wok becomes very hot, add two tablespoons peanut oil to center. Roll oil around sides of wok. When oil just begins to smoke, add chicken and shrimp mixture. Stir-fry until shrimp turn white, about two minutes.
Immediately add vegetables and stir-fry until vegetables brighten in color, about one minute.
Add pine nuts and sauce. When sauce comes to low boil, stirs in a little of cornstarch mixture so sauce glazes food. Pour out onto rice sticks. Serve at once with lettuce cups. Each diner puts some of the filling in a lettuce cup, then gently cups edges up.
Recipe makes two entrée or six to eight appetizer servings.

Sauce:
Ingredients:
2 tablespoons dry sherry
1 tablespoon light soy sauce
1 tablespoon oyster sauce
1 tablespoon Oriental sesame oil
1/2 teaspoon sugar
1/4 teaspoon Chinese Chile sauce

Directions:
In a small bowl, combine all sauce ingredients, mixing well; set aside.

Print this recipe



Turkey Bundles
Ingredients:
1/4 cup sliced water chestnuts
1-1/2 tablespoons wok or vegetable oil
1/2 pound ground turkey
1/2 red bell pepper, seeded and diced
One zucchini, diced
One green onion, including top, finely chopped
3 tablespoons Korean teriyaki sauce
Eight butter lettuce leaves

Directions:
Coarsely chop water chestnuts; set aside.
Place oil in wok or large skillet and place over high heat until hot.
Add turkey; stir-fry two minutes or until lightly browned and cooked through. Add water chestnuts, bell pepper, zucchini, green onion and teriyaki sauce; stir-fry two minutes.
To serve, place one heaping tablespoon turkey mixture in center of a lettuce leaf, wrap up like a burrito and eat out of hand.
Recipe makes two servings.
Print this recipe



Mild Lettuce Wraps
These wraps are milder than most, easier to prepare and even kids enjoy them!
Ingredients:
2 teaspoons olive oil
2, 4-ounce skinless, boneless chicken breast halves, cut into thin strips
2 tablespoons grated peeled fresh ginger
2 tablespoons teriyaki sauce
2 tablespoons rice vinegar
1 tablespoon honey
1/2 to 1-teaspoon crushed red pepper
1/2 teaspoon cornstarch
1-1/2 cups grated carrot
1 cup fresh bean sprouts
1 cup snow peas, trimmed and cut lengthwise into thin strips
1/2 cup sliced green onions
1/4 cup sliced almonds, toasted
12 Bibb lettuce leaves

Directions:
Heat oil in a wok or large nonstick skillet over medium-high heat. Add the chicken and ginger; saute five minutes or until chicken is done.
Combine teriyaki sauce, rice vinegar, honey, red pepper and cornstarch in a small bowl; stir with a whisk. Add teriyaki mixture to chicken mixture in wok, stir in carrot, bean sprouts, snow peas and onions. Cook three minutes or until sauce thickens slightly, stirring often. Stir in almonds.
Spoon 1/4-cup chicken mixture onto each lettuce leaf; roll up.
Recipe makes four servings; three wraps each.
Nutrition information per serving:
Calories: 189
Fat: 6.2g
Protein: 17g
Carbohydrates: 17.3g
Fiber: 3.8g
Cholesterol: 33mg
Sodium: 403mg